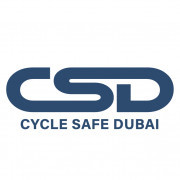 Cycle Safe Dubai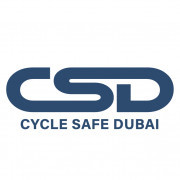 About
Cycle Safe Dubai was set up as a way to get cyclists off the couch and back onto their bikes.
Today it is a lot more involved in the progress of cycling in Dubai and the UAE.
Our group rides continue to start on Friday & Saturday mornings from the Bottom of the Stick carpark. But there are outrides organised further afield based on season and planning.
Being part of Cycle Safe Dubai not only keeps you healthy and fit, but includes you into a community of like minded people who showcase Dubai and the UAE as a progressive cycling city and country.

Cycle Safe Dubai encourages safe cycling, where not only are the rides on the various cycle tracks in Dubai which are closed off from traffic, but cycling etiquette and "rules of the road" are insisted upon.

Being part of the Cycle Safe Dubai Team will not only get you into shape while making new life long friends; but you also get afforded some of the best benefits from the team sponsors.

Join Cycle Safe Dubai today, and make cycling fun again!
History
Cycle Safe Dubai was started from the introduction of two gents who 'just wanted to go for a ride'.
From there the opportunities grew given their passion and interest and Dubai's openness.
Thankfully their shared goals and the platform of CSD created the basis to what is now the Spinneys Dubai 92 Cycle Challenge. Stewart is still involved in progressing this event.

If you are looking to develop your fitness, CSD is the way to get you to the line ready for your best results. We have our 35, 45, 65, 85 and 104km rides and will step you through.

Otherwise is you want to add a CSD ride to your program, the dates and times are set and we will always be there, with support car (revolution cycles), water (monviso), occasional snack (chilly date).

Over to you.
Membership
Cycle Safe Dubai is the original community cycling group in Dubai for the growth of cycling at any level.
It was created out of necessity to encourage people into a low impact sport, but also to sustain and further develop the interest. Your goals will be encouraged for any ability or experience.

For AED580, our yearly CSD Group membership includes:
Our exclusive KIT from BIORACER (the apparel partners for Team INEOS Grenadiers and other pro teams as well as numerous Olympics Teams and Continental Teams). The premium kit also includes BioRacer's in house patent chamois and fabric systems.

The select CSD "My Benefits App" allows you to take advantage of our Sponsor Benefits as well as additional everyday discounts and offers exclusive to the app. Through the year we will have dinners, talks, and further prizes, giveaways and gifts with the changes in social regulations.
Don't forget your birthday gift from Revolution Cycles either.

You can find us on Social Media via Instagram, Facebook and YouTube sharing insights, information and photos/video from our various rides.

Join and be part of Dubai's growing cycling community!

The team membership runs from 1st September 2021 to 30th September 2022.
Training & workouts
What?

Legendary Coffee Ride

Start: If you come off the Dubai Bypass Road onto the Al Qudra road towards Bab Al Shams, we start from the bottom of the 'stick' which is the beginning of the Dubai Cycle Path. Under the fixed tent.
Car park spaces and toilet facilities are available
Date: Every Saturday 06:00am (times change between summer and winter)
Distance: + – 65km with a coffee stop half way at Al Jiyad Stables.
Pace: Between 28-35+ km/h

Contact: Nic on 055 545 2690 or Revolution Cycles on 04 3697441

Details: Generally THREE different ride groups. All experienced riders welcome to the Legendary Sunday morning Coffee Ride. A great opportunity to mix with the rest of the cycling community.

6.00am: Recovery group (Decaf Ride) 28-30 km/h
6:05am: Intermediate group (Cappuccino Ride) 32-34 km/h
6:10am: Fast group (Espresso Ride AKA The Pain Train) 35km+ km/h
Or Long Way Round 85km

6:00am: 28 – 32 km/h
Remember to give your coffee order before departure so we can have your order ready on arrival.
No support car on the LONG way round, make sure your capable of the distance and carry the necessary emergency spares.

All riders should all arrive at Jiyad Stables about the same time.

NOTE: There is a charge per person for the coffee, juice etc ... of what your order

All events: NO HELMET NO RIDE!

Where?

Al Qudra Cycle Path (Bottom of Stick)

When?

Thu. 29 Sep. 2022 - Tue. 1 Nov. 2022
Sun. 6h - 9h
---
What?

Friday Outrides

Where: If you come off the Dubai Bypass Road onto the Al Qudra road towards Bab Al Shams, we start from the bottom of the 'stick' which is the beginning of the Dubai Cycle Path. Under the fixed Tent.
Car park spaces and toilet facilities are available
Date: Every Friday starting at 6:00am
Distance: Various, from 35km/45km to 104km
Pace: From 20 to 36km/h

Contact: Nic on 055 545 2690 or Revolution Cycles on 04 3697441

Details of the 4 rides:
- 35 km & 45km beginners ride (AKA Slow Poke Ride) 20 – 25km per hour average (If you have always wanted to ride in a group but never found one for beginners well this is for you.)
- 65 km intermediate rides , 3 options, 28km / 30km & 32km/h average.
- 85 km intermediate ride 3 options, 32km / 34km & 36km/h average.
- 104 km Advanced ride 2 options, 34km & Fast 36+km/h average.
All the group rides will do the best they can to stay together and work as a team against the seasonal WIND.

Directions: We will leave at 6:00am sharp so if you're keen to jump on the wheel see you there.

A helmet is essential, No Helmet No ride!

For directions please call Nic on 055 545 2690 or Revolution Cycles on 04 3697441

Where?

Al Qudra Cycle Path (Bottom of Stick)

When?

Thu. 29 Sep. 2022 - Tue. 1 Nov. 2022
Sat. 6h - 9h
---
What?

Revolution Nights at Al Qudra Cycle Path

Where: First car park at Al Qudra Cycle Path (Bottom of the "stick")
Date: Every Tuesday from 19:30
Distance: 35km
Pace: Pace starts at 30km/h, increasing in pace every 8km

Contact: Revolution Cycles on 04 3697441

Details: For those of you looking for a fun and sociable weekday ride, helping to build strength and stamina, this is the ride for you! This is group specifically aimed at cyclists wishing to build group riding skills.

Where?

Al Qudra Cycle Path (Bottom of Stick)

When?

Thu. 29 Sep. 2022 - Sat. 31 Dec. 2022
Tue. 19h30 - 21h30
Team events
Currently no events listed